20 mai 21h Licriture "Pensée en Acte"

29 mai 9pm Reariting "Thought in the Act"
constallationss
20 mai Constallationss / Licriture.
Une séance de licriture (reariting)* avec le groupe "constallationss" sur un texte en rapport avec le livre «Pensée en Acte» d'Erin Manning et Brian Massumi.
La session commencera avec une explication et un accordage de 10 minutes. Ensuite, les participants se rendront sur un framapad où ils trouveront un lien vers le texte sélectionné. Lorsqu'ils sont connectées à ce framapad, ils commencent à lire le texte individuellement.
Sur le framapad, ils y rédigeront leurs notes, réflexions et digressions les unes parmi les autres, pêle-mêle, et ils réagiront à celles des autres participants.
Après une heure de licriture, nous nous reconnecterons pour discuter du processus.
Il ne s'agit pas de produire un texte ensemble, mais d'utiliser la licriture comme une technique pour penser au travers un texte en commun.



27 mai Constallationss / Reariting.
A reariting* session with the group "constallationss" on a text related to the book "Thought in the Act" by Erin Manning and Brian Massumi.
The session will start in Jitsi or zoom with a 10 min long explanation and attunement. After the participants will go to a collective writing framapad where they will find a link to the selected text.
They can start reading individually while connected to this framapad. There they will write their notes, reflexions, digressions the ones through the others and react to those of the other participants. After one hour of reariting we will shortly reconnect to discuss the process.
This is not about producing a text together, but about using reariting as a technique to think through a text together.
https://senselab.ca/wp2
In the frame of / en relation avec :

OPEN publishing FEST https://www.openpublishingfest.org
*Reariting (licriture) manifests itself as a facilitator for a diffractive, distributed intelligence on-the-fly, creating text and relational patterns that do not depend on canons. It generates creative and unexpected "outcomes". These are, in my opinion, not so much the texts produced, as the "diffractive moments" experienced by the reariters.
( https://aabrahams.files.wordpress.com/2019/07/diffractive-1.pdf )
http://www.fabula.org/revue/document12411.php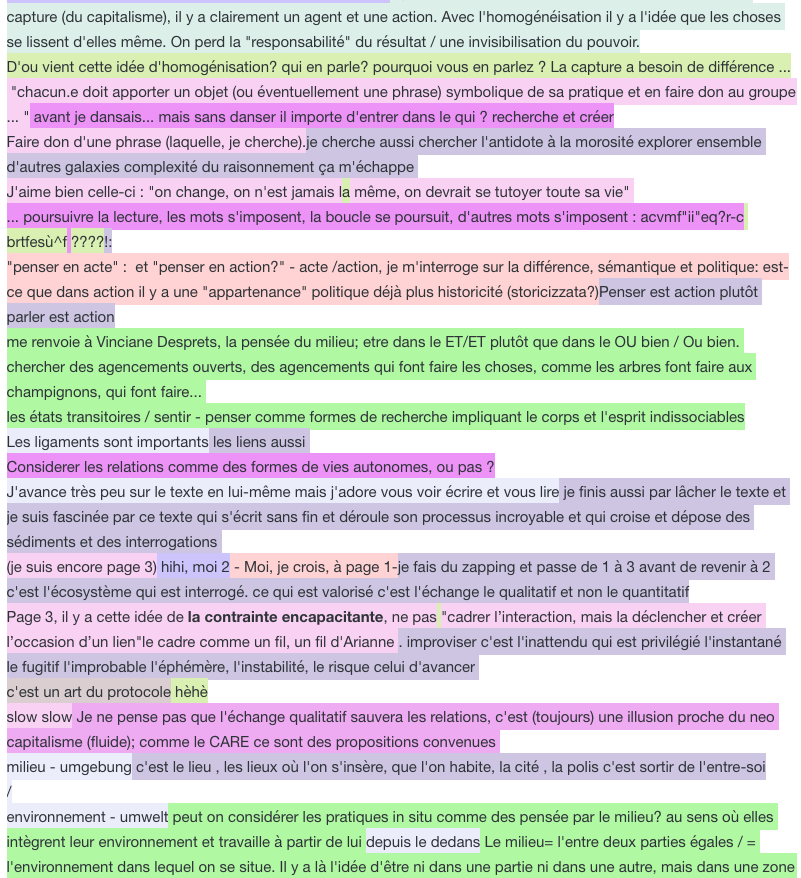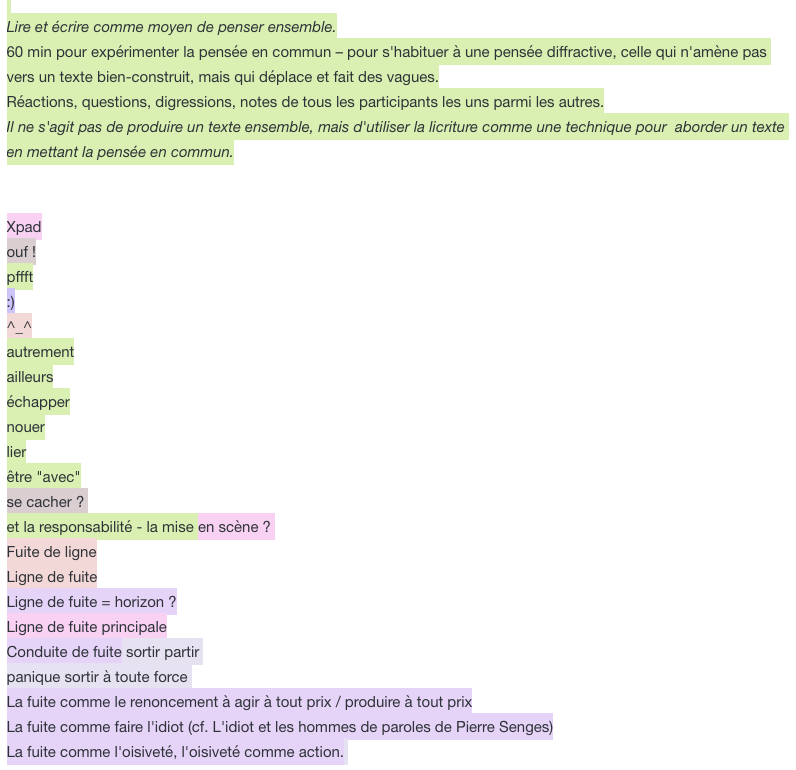 http://www.inflexions.org/n1_manninghtml.html
Licriteuses : Annie Abrahams, Alix Desaubliaux, Pascale Barret, Alice Lenay, Carin Klonowski, Gwendoline Samidoust, Murielle Piqué, Lucie Desaubliaux, Sylvie Roques, Cathérine Lenoble, Simona Polvani, Marie Muzerelle Mathilde Gentil et Marie Julie.

Texte surprise : Aurélien Maignant, « Auto-(dés)organisation : recherche, création & activisme au SenseLab », Acta fabula, vol. 20, n° 8, Essais critiques, Octobre 2019.

Licritures : https://annuel2.framapad.org/p/licritureSenselabz
et https://annuel2.framapad.org/p/licritureSenselabx
Les deux pad's en .pdf (21 mai 2020) à télécharger
Reariters: Annie Abrahams, Alix Desaubliaux, Pascale Barret, Alice Lenay, Gwendoline Samidoust, Marie Julie, Danielle Imara, Enrico Floriddia, Clyde Chabot, Benjamin Efrati, Emmanuelle Gibello, Yolande Brener, Ienke Kastelein, Jatun Risba, Sophie Fitzpatrick and Molly O'Leary.

Surprise text: "Creative Propositions for Thought in Motion", Erin Manning

Rearitings: https://annuel2.framapad.org/p/rearitingOPF1
and https://annuel2.framapad.org/p/rearitingOPF2 + an extra quiet pad in case https://annuel2.framapad.org/p/rearitingOPF3
Two pads to download as .pdf (May 28 2020)



Que c'est-il passé, qu'avons nous fait ?

What was this about, what did it do to you?
attunement / accordage 6 min.
https://soundcloud.com/annie-abrahams/analyser-lecran-session-queering-dommage
Alice : ... Lors de notre session en français, le 20 mai, j'ai été trop vite impressionnée par l'emballement des lignes de couleurs, je me suis sentie noyée plus que portée, je n'arrivais pas à trouver de "nid", mais j'ai quand même trouvé quelque replis.
Pour la session du 27 mai, en anglais, j'ai plus rapidement laissé tomber le texte, pour m'organiser avec les lignes des autres. ... Le texte n'était qu'un prétexte pour un texte commun, mais j'imaginais cependant que la conversation (le texte commun), s'orientait en fonction des mouvements du texte (inerte) à lire. A moins que chacune ait laissé tomber le texte pour se consacrer aux lignes des autres. ...
Une piste qui m'a particulièrement intéressée donc, c'est la façon dont ce dispositif instaure une familiarité : familiarité avec le texte, avec les autres, et même, avec certaines lignes, certaines couleurs, certains lieux de la page qui peuvent aussi s'éclater. Cette familiarité est particulièrement visible si on passe d'une page à l'autre.
Danielle: ... What was really lovely about it was the sense of a shared mind, that we were in one another's heads and it felt like a kind place, and that we were all on the same journey. We were trying to formulate ideas together. ... And it is like hearing people's thoughts. ...

I found it interesting to be able to respond to thoughts as they were expressed, while taking care not to interrupt someone in mid-thought expression; although accidentally doing so seemed to lead to interesting results, sometimes forming a poetry, and new meanings. I liked how concepts flowed from and around the subject matter (the text) to the nature of reality, the senses, existence, language, communication . . .

I fell in easily with a co-author who was being absurd and surreal, maybe funny, and then realised that this thread would only lead away from heartfelt meaning, so I moved away from this exchange. It was an interesting parallel with making social choices at a party, my usual tendencies and how I now respond to them. Another parallel to this was changing pages/rooms and feeling there was already a clique there and I didn't know how to join it, or if I wanted to. I had become accustomed to my 'group', my page. It did seem to me that there were on-going conversations there in which the authors were deeply immersed.

Interesting that although I am seeking collective experience I did ensure the right name was associated with my colour, and I am unsure why that mattered. I suppose it's the habit of individualistic, identity-based society.
Sylvie : Cette façon de penser ensemble, d'avancer dans le déchifrement du texte et de proposer une sorte de "paratexte" . Ces commentaires ou résonnances croisés peuvent être conçus comme un bruissement inventif dans un espace temps suspendu. C'était aussi une façon de tisser des liens grâce à ces écritures spontanées.
Clyde : Toutes ses écritures simultanées
Comme une fièvre. Chacun à la recherche d'une vérité à toucher, parfois aussi d'une place à prendre. Possibilité de rester silencieux.
Au final des possibilités aussi - invitation d'entrer dans l'écriture des autres de pouvoir non seulement la compléter mais la modifier, voire l'effacer. Et de faire du vide, de créer de l'espace dans le plein qui se dessine ou s'affole.

C'était fort aussi de savoir que nous étions dans des pays différents, des lieux divers tous au même instant dans une tentative de nommer le présent, de lui donner corps ensemble.
Comme un rituel, en écho au morceau sonore que tu nous as invités à écouter.
Je n'ai pas vu tout de suite le texte.
Lorsque je l'ai découvert sa longueur, vue au fait que je lis très / trop lentement m'a fait plutôt fuir, à peine parcourir.
=> suite / follow up =>
La dynamique, la rencontre, l'effervescence tout ça était très plaisant.
Mais le texte du départ ? Est-ce que nous en savons beaucoup plus? Les textes choisis étaient beaucoup trop long pour des sessions si courtes.
Nous, constallationss, aimerions encore passer un peu de temps avec ces textes en quelque sorte "fondateur" de nos rencontres, de notre recherche.
//
The dynamics, the meeting, the excitement all that was very pleasant.
But the text we departed from? Do we know much more? The chosen texts were far too long for such short sessions.
We, constallationss, would like to spend a bit more time with these, in a certain way "foundational" texts for our project, of our research. Do you also want to spend more time with the texts / do you have time to join in a new licriture / reariting with us?
----
Une nouvelle session licriture le 10 juin à 21h. Avec Sylvie Roques, Simona Polvani, Yolande Brener, Emmanuelle Gibello, Annie Abrahams, Marie Muzerelle, Marie Julie, Mathilde Gentil, Muriel Piqué, Alix Desaubliaux, Benjamin Efrati ...

Another reariting session on June 17 at 9 p.m. With Alix Desaubliaux, Alice Lenay, Yolande Brener, Emmanuelle Gibello, Annie Abrahams, Marie Muzerelle, Marie Julie, Danielle Imara, Benjamin Efrati, Mathilde Gentil, Lucie Desaubliaux, Ienke Kastelein ...
----
Chacune se commet à lire le texte de départ en entier avant la session.
La session en soi commence avec un jit.si court et continuera avec une licriture sur un pad dans des groupes ne pas plus grand que 5 personnes.
Un petit byebye à la fin sur jit.si.
//
Each of the partipants commits to reading the entire starting text before the session.
The session itself starts with a short jit.si and continues with reariting on a pad in groups of not more than 5 people.
A short byebye at the end on jit.si.

https://annuel2.framapad.org/p/licritureJour

..https://annuel2.framapad.org/p/licritureNuit

https://annuel2.framapad.org/p/licriturePoem
Capture de l'écran pendant la licriture and during the reariting Benjamin Efrati
- Are you nexus ? I am shake.
- I am flesh
je n'ai pas l'impression d'avoir pu aller "plus loin" dans le texte (je n'ai pas non plus l'impression qu'il faille le faire). Je me pose aussi la question de sa longueur... Autant le processus de licriture est très générateur, autant le fait de passer du texte initial I au texte écrit E donne l'impression de réduire, d'échancrer.
Que se passerait-il si au lieu de partir d'un texte I très long, nous ne partions que d'un noyau, quelques paragraphe, un concentré à partir duquel nous ne pourrions que nous étendre ?
Fun Fact : Le temps se stretch sur l'historique dynamique non pas en fonction des secondes qui passent mais du nombre d'interaction. 1h peut se transformer en 3 minutes ou en 45 minutes.

https://annuel2.framapad.org/p/rearitingHard

https://annuel2.framapad.org/p/rearitingSoft

https://annuel2.framapad.org/p/rearitingPoem
we want more
more reariting
plus de licriture
Alix: The moving text and the space of the framapads were offering some special "spaces" for nearly intimate conversations between colors.
I need to think about it a little bit more and maybe write it in french first, but I have a feeling that something is happening in the movement and the intimacy of conversations between two, three colors, that are always shifting but this movement doesn't remove the intimacy of the exchange.
Texte sur Licriture/Reariting
Alix Desaubliaux
Reariting has derived from the Readingclub.fr 2013 - 2019 ongoing. Around 20 sessions in the archives now.